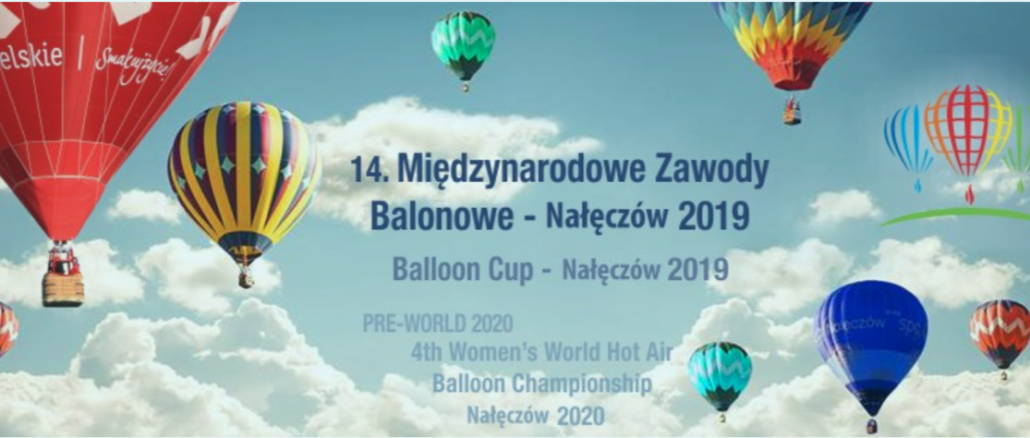 (PRE-World Women's FAI Hot Air Balloon Championship 2020)
14-18.08.2019 – Nałęczów, Poland
Competition will be hosted as a part of 100 year anniversary of Polish Aero Club, under the Honorary Patronage of President of Poland Andrzej Duda
and
450 Year anniversary of Lithuanian&Polish – Union of Lublin
Organizer : Aero Club of Lublin (Aeroklub Lubelski) Host: City of Nałęczów
Participation conditions:
– Pilot In Command minimum 50 hours
– FAI sporting license (except Fiesta)
– full pilot and balloon documents
– insurance
– payment of entry fee till 30th of June 2019, 50 EUR (pilot +max 3 crew) – placement of one sponsor banner on the basket
Entry fee includes pre – breakfast, welcoming banquet and closing ceremony banquet,
Propane for all the competition flights and night glows, competition map, logger, rules of the event, secured parking for trailers, gift bag for pilots and meteo service.
Account number of Aero Club Lublin (Aeroklub Lubelski) :
SWIFT- POLUPLPR
15 8707 0006 0029 7888 2000 0003
Name of the bank : Bank Spółdzielczy w Lubartowie
Bank transfer is equivalent with pilot registration for the event. It should contain pilot name,
balloon registration number and title : "NALECZOW CUP 2019" for competitors or "NALECZOW FIESTA 2019" for the Fiesta pilots. Please send us an e-mail with pilot picture and balloon picture.
ACCOMODATION:
For the first 10 pilots we offer free triple room in dormitory, which is located 50m from Briefing Hall. If you need help with looking for accomodation : Local Toursim Organistation tel. +48 81 501 61 01. Detailed program and more information on www.balloons.aeroklub.lublin.pl
Contact with organizer : balloons@aeroklub.lublin.pl
Planned amount of balloons : 35++
ARRIVAL AND REGISTRATION :
Registration for pilots : 14th of August from 1 pm to 5:30 pm in Briefing Hall. Briefing address (Sporting Hall): Spółdzielcza 17, 24-150 Nałęczów.
General briefing : 14th of August 6 pm – Briefing hall
Official opening ceremony: 14th of August 9 pm – Park in Nałęczów
Balloon flights : morning and afternoon from 15th to 17th August.
ADDITIONAL INFORMATION:
2 banquets, 2 music concerts, 2 night glows, Regional Harvest Festival and local products market. Event will be hosted in two categories : FAI rules and Fiesta.
Registered pilots will be added to the starting list and will receive confirmation to the date of 15.07. Deposit for logger, competition maps and starting numbers : 100 EUR.
First refueling is after the first competition flight.