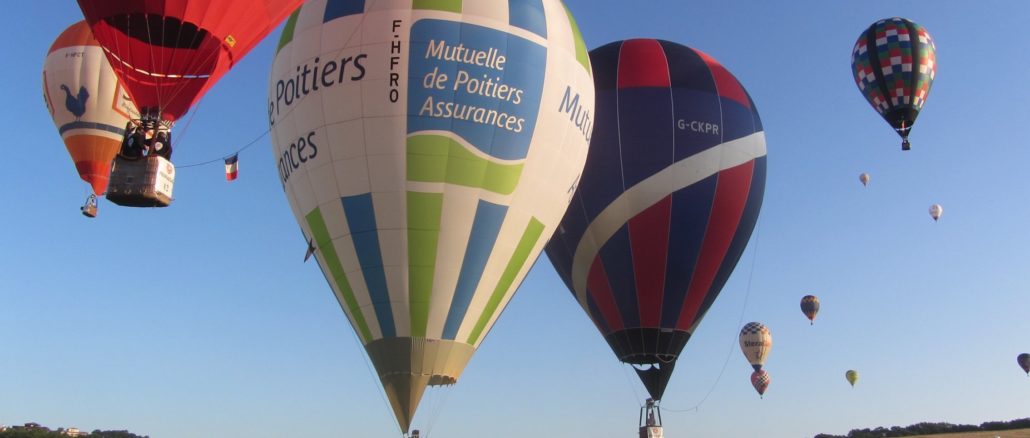 22nd Coupe d'Europe de Montgolfieres & 27th Coupe du Monde des Dames
Dear friends and pilots
The 22nd Coupe d'Europe de Montgolfieres and the 27th Women's World Cup will take place from Thursday 29th July to Sunday 1st August, 2021, in accordance with the traditional dates for this hot air ballooning event since its creation in 1993, 27 years ago. In accordance with tradition the competition will close with the fantastic aerial display event on the Sunday evening.
This event takes place in the southern part of the Charentes region, home of the Cognac vineyards, amidst rolling hills, an area as beautiful as it is suited to flying balloons in the middle of summer. The warmth of the welcome in local the community organisation in the form of the "Foyer Rural de Mainfonds-Aubeville" also contributes enormously to the attraction of this part of the country.
The competition was created originally to allow all the French pilots to test their flying performance against some of the best pilots on the international scene. It also brought proof that ballooning competition could offer an extraordinary public spectacle and attract exceptional media support. The flights and the flying spectacle are followed by thousands of loyal, passionate spectators.
The first edition of the Coupe d'Europe in 1993 drew around 30 pilots to the event, amongst whom featured Peter Vizzard, World Champion, and two European Champions in Mathijs de Bruijn and Claude Sauber.
In 1997, the Coupe d'Europe in Mainfonds also made a welcome addition to the competition offer in the form of the Women's World Cup, invented by Masashi Kakuda from Japan. As the first (global) women's hot air ballooning competition, the Women's World Cup went on to inspire the CIA (the FAI Commission for Hot Air Ballooning) to create further World and European Women's championship events.
The Coupe d'Europe was also the innovator in establishing the first set of competition rules which did not use observers, and which became the model rules for all international hot ballooning competition without observers.
We would like to invite you to this competition which we have been preparing for several months now. We would be delighted to be able to count on you, just as you can count on us.
In 2021, as usual, we expect to welcome 45 pilots for the combined Coupe d'Europe and the Women's World Cup, and alongside these some 20 'fiesta' pilots. The two competitions will take place at the same time with participants competing in the same tasks. The competitors in the Women's event will benefit from separate scoring classification in each of the two events.
The conditions for entry, similar to those in 2019, will soon be issued in more detail. Do not delay in reserving your place in the event(s), at which point you will receive further information in the coming months.
Registrations: https://bit.ly/34MZ4X4